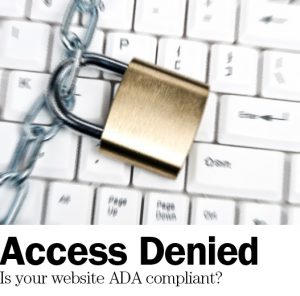 Is your company's website ADA compliant? Even for the most well-intended among us, there's a good chance you may have never considered the Americans with Disabilities Act while building your online presence. But now that you know, you can — and should. In fact, there has been a recent increase in claims regarding company websites that do not offer reasonable accessibility to persons with disabilities.
If your company's website or app is not ADA compliant, the risk of being sued is real, and the number of lawsuits filed for inaccessible websites only continues to grow. Over the last few years, there have been thousands of federal lawsuits filed for inaccessibility of company websites, many of those focused on food service, retailers, universities, and financial institutions.
If avoiding a lawsuit wasn't motivation enough, consider that it can also be good for business. For instance:
Accessible websites are easier for everyone to use and navigate.
ADA compliance boosts your site's SEO, meaning your company is given higher preference on major search engines like Google. This improves your rank and position on search engine results pages and makes it easier for customers to find your company online.
Accessibility features improve your keyword targets, giving search engines more ways to identify relevant content on your site for an interested, inquiring audience.
Remind me: What is ADA compliance? Title III of the ADA states: "No individual shall be discriminated against on the basis of disability in the full and equal enjoyment of the goods, services, facilities, privileges, advantages, or accommodations of any place of public accommodation by any person who owns, leases (or leases to) or operates a place of public accommodation."
So what does that mean for the web? The majority of lawsuits filed thus far have centered on a lack of digital accessibility for blind or visually impaired individuals. However, to fully comply with the ADA, websites also need to be accessible to individuals with physical, mental and neurological impairments. Here's how you can start:
Understand the language of accessibility. A good first step begins with having a basic understanding of ADA compliance overall. Review key terms used to discuss ADA compliance. There are many acronyms and concepts to understand, so take your time and be ready to learn.
Order an assessment of your digital properties, including your website and any apps, to determine their level of compliance – or noncompliance. Quantitative and qualitative digital accessibility audits may give a good understanding of vulnerabilities within your website(s) or app(s).
Create and maintain an internal web accessibility policy to ensure the website remains compliant.
Show initiative. Publish an accessibility statement on your app or website that outlines your efforts to produce and maintain an inclusive website. If you haven't yet implemented any changes, state what you're doing to fix this, and then do what you say. It may help hold off a lawsuit if you have demonstrated a clear plan for an ADA compliant website. But be sure to follow through on that plan.
Provide ongoing accessibility training for web developers and managers to hedge against future digital accessibility issues and gaps in compliance.
Although there is currently no clear set of instructions to make a website ADA compliant, there are guidelines that may be able to help ensure your website is compliant. A good primer for website accessibility is available on the Americans with Disabilities Act website.
If you're unsure whether your company's website is ADA compliant or not, start a conversation with your website designer or IT professional. To discuss your company's liability coverage with an ISA agent, contact us at (828) 253-1668 or info@isa-avl.com.